What You Should Know About Sliding Barn Door Hardware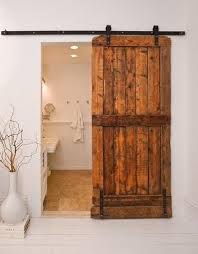 If you have been looking for a fun and innovative way to dress up any doorway, then you may want to consider throwing away your old door and replacing it with a sliding barn door. These are becoming increasingly popular in both cities and rural settings alike and they have the added advantage of providing you with more room in any room while also adding a fair amount of style.
What Is A Sliding Barn Door?
If you grew up on a farm, then you might not appreciate the novelty of a sliding barn door, but for the rest of us, this is a pretty unique thing to have in your home. These doors tend to be made from wood although they can be made from other materials, and you will find some that are truly rustic and original while others are simply more affordable or more modern reproductions.
A sliding barn door requires its own kind of hardware because it moves on a different plane than a traditional door. In many ways, this is much like a pocket door that would hide in a wall except that this is obviously much more affordable to install and it can be put on just about any kind of doorway or opening.
What Is Sliding Barn Door Hardware?
This is all of the hardware that actually holds the door in place and allows it to slide freely from back and forth. As important as it is to find a high quality door that dresses up your doorway and your room, it is equally important to find the right sliding barn door hardware for your door. Not only should it match the overall design of your décor, but it needs to be sized  appropriately for the type of door that you have.
There are numerous considerations that you will have to keep in mind when you are shopping for sliding barn door hardware, and these include the overall size and weight of the door, the length that it will need to slide in order to clear the doorway, and even the type of materials that it is made from.
What Kind of Sliding Barn Door Hardware Is There?
It might surprise you to find out that there are really many different types of hardware available for this purpose, and so when you have chosen your door, you will then need to measure it in make sure you know how much it weighs in order to choose the right sliding barn door hardware for your door.
Some of this hardware is very modern looking, with sleek design that can be an interesting contradiction to an old-style barn door. On the other hand, you may want to buy hardware that is more traditional and you can find them with large wooden wheels instead of steel wheels, which can make for a quieter opening and closing of the door.
It is obviously important to make sure you buy high-quality hardware because this will be holding up a fairly heavy piece of wood or some other kind of material that will continually be moved back and forth for a number of years. Therefore, it is worth investing in the highest quality and sturdiest hardware that you can find.
Where Can You Buy This Hardware?
If you are particularly handy in your workshop, then you may want to create this hardware from scratch, but more often than not people are now purchasing sliding barn door hardware online. There are now numerous kits that you can choose from that actually include everything from the steel bar on which the door slides to the rollers and all of the brackets.
When you buy any hardware kit, you will usually get a full set of instructions that will show you the proper way to hang your door so that it is as even as possible, which will help to prolong both the life of the door and the hardware itself.
Even though you can't buy hardware such as this in some stores, you will generally find that it is a much better deal buying it online. Not only can you choose from a wide variety of options in terms of different types of metals, styles, and colors, but you should be able to find the type of hardware that is exactly right for your door.
Is This The Kind Of Door For You?
You will find sliding doors blocking off kitchens, closet, bathrooms, and throughout many homes and offices these days. This is a beautiful way to dress up any wall while also potentially recycling an old barn door. Whether you are choosing this kind of sliding door for aesthetic reasons or for functionality, you want to make sure that you have hardware that will support it.